Native Jewellery
5 in. square spalted birch with inlay jewel box. Metis ...
.25 inch Silver Bracelets. Hand carved by William Cook
Hand carved Silver Ring with Two Ravens and Moon by William ...
.375 inch Silver Bracelet. Hand carved by First Nations ...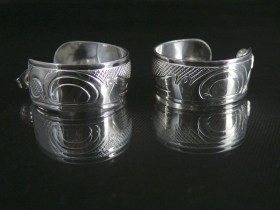 Hand carved Silver Earrings by Northwest Coast native ...